The NBA 2021 All-Star Selections.
Despite the pandemic and COVID-19, the NBA will still be continuing with the All-Star event. It'll take place on March 7th and will take place in one night, unlike in previous years where the All-Star events are held over the course of 3 days. The event will begin at 5PM EST (10PM GMT) with the TNT NBA Tip-off, followed by the Taco Bell Skills Challenge and the 3-pint contest at 6.30pm. It'll all then be topped off by the NBA All-Star game at 8PM. 
The format for the All-Star game will follow the same format that was introduced last year: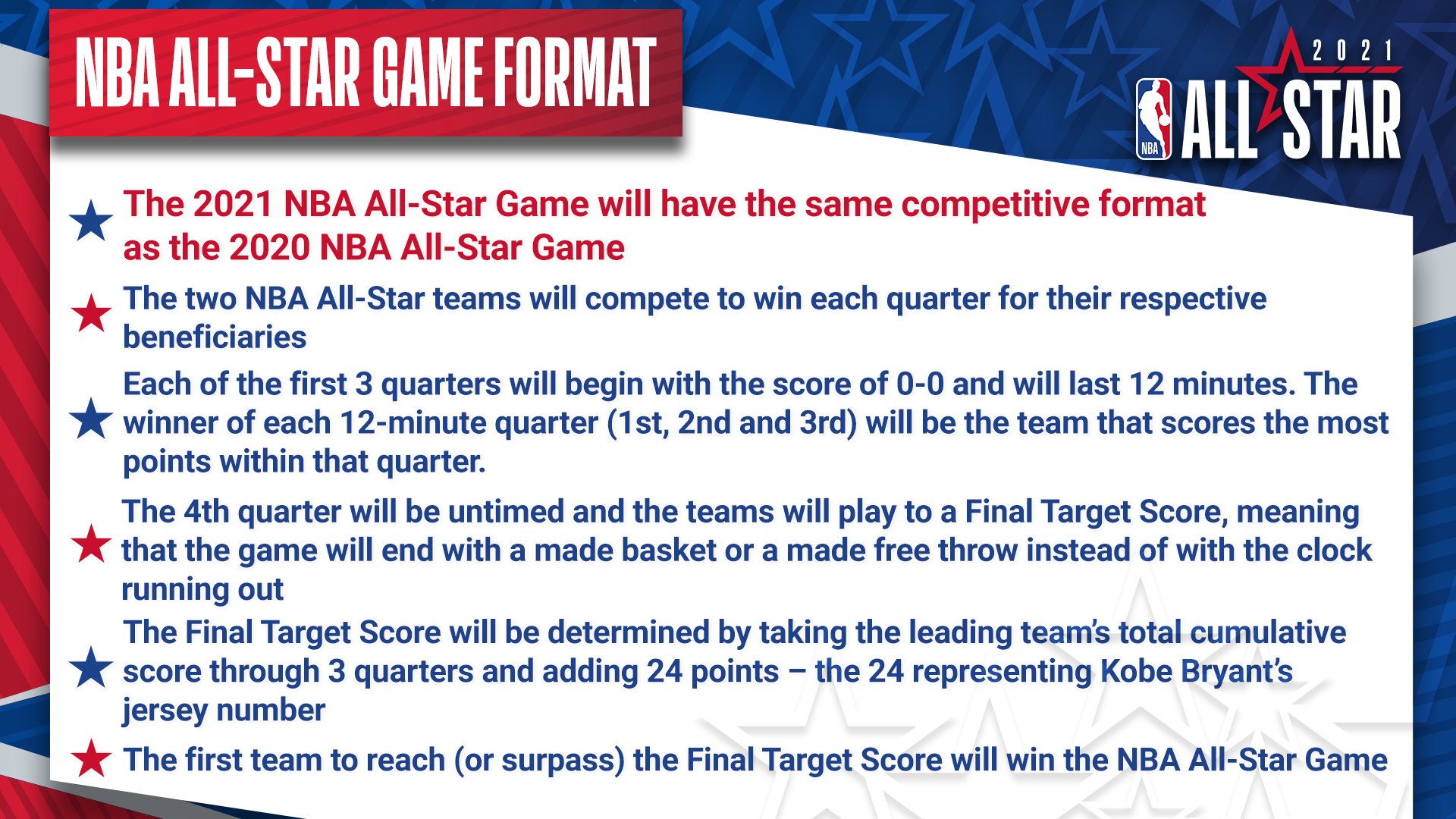 This years collection of All-Stars included some familiar names, including LeBron James and Kevin Durant who will captain the West and East teams respectively. As well as those two, Nikola Jokic, Joel Embiid, Bradley Beal and Stephen Curry also made the list along with Giannis Antentokounmpo, Luka Doncic and Kawhi Leonard. 
The Reserves also features some common names and as is with most years, some names who didn't get the call up that probably should have. 
A name that wasn't featured which surprised many people was Devin Booker. In his 6th year, Devin is averaging 24.7PTS along with 4.3AST and 3.8REBS, but even those stats are an understatement to how well the Phoenix Suns shooting guard has been playing. Devin Booker is also the youngest active player to score 70 points in a game, which he did in 2017 against the Boston Celtics and is the only player to have scored 70 points since Kobe Bryant scored 81 points against the Toronto Raptors in 2006. 
There was quite a bit of uproar after the reserves were revealed and Devin was nowhere to be seen with many players including LeBron James voicing his opinion on Twitter. 
The All-Star Draft will take place on March 4th, where LeBron and Kevin Durant, who are the team captains, will select their teammates for the All-Star Game. 
---